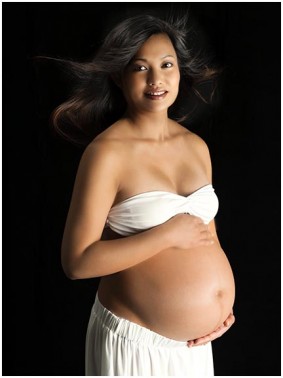 To take or not to take. Pregnancy photos are all the rage these days, judging by the growing number of photography studios offering maternity shoots. You may, however, be self-conscious and embarrassed by how big and fat you think you are, and feel that a maternity photo shoot is definitely not for you. Well, think again. In time, all images of your pregnant days will be wiped out, and you will be hard put trying to remember what you looked like carrying your children in your belly. Your children, when they are older, will also get quite a kick from seeing their expectant mama, with the baby in her tummy, as it grows inside of her. These photographic memories will serve to remind them of the love you have for them, and your joy in having them. Even if you don't care for the memory for yourself, do it for the kids.
One big plus in pregnancy photography – it allows you to flaunt your belly and feel great about it. You may feel sore, tired, nauseous, body-aching and huge like a whale. But none of these will be apparent in the photos. They'll only reveal the good side, and portray you for the thing of beauty that you are, awe-inspiring, gorgeous and glowing.
Furthermore, a professional photographer will be able to transform what would otherwise be a simple shot of you into a story, and a work of art. They can take any image of you and give it a finish with an extra touch.
So, go ahead, and capture some memorable shots that you can keep forever.