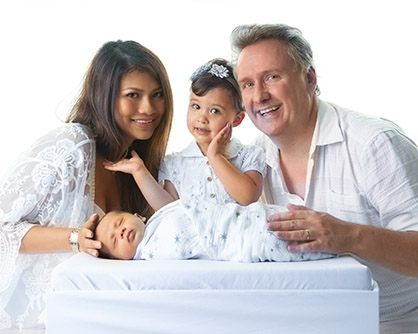 We chose JJ Photography because of the simple yet beautiful feel of the photography. It was also a plus that he does the shoot in our own home complete with a professional studio setup which he brought along with him.  The photos of our newborn baby son and 2 year old daughter are works of art. 
JJ is a wonderful and extremely patient photographer with our newborn. We did not feel rushed at all during the photo shoot despite having to feed our newborn son and clean up accidents (JJ was even peed on).
JJ made us feel very relaxed and comfortable during the shoot and took into consideration our likes and dislikes on certain aspects of the shoot. Though JJ does mostly dark background, he was more than happy to do it in a brighter background and took some shots outside our home as per our request.
 Our only complaint was there were so many beautiful photos to choose from at the end of the day and that made it hard to select what we wanted to be touched up. Thankfully we could keep all the images taken during the session. 
We're definitely recommending JJ to our friends and would use him again for future shoots. 
Thank you JJ for capturing such beautiful moments of our family.