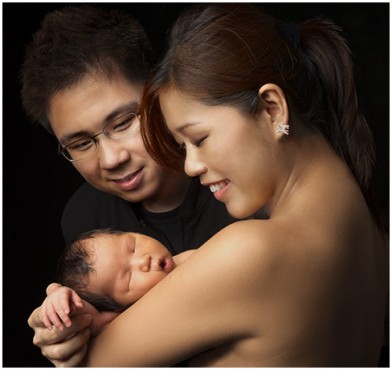 7 months preggy, first-time mummy, I had been taking a number of selfies that featured my growing bump until one day, it dawned on me that I might as well have a maternity shoot!
So I started searching online, and JJ's website stood out for its clarity on the packages available, as well as the fact that I could get all the soft copies of the photos! And of course, the possibility of having the shoot done in the comfort of our new home was a plus.
It was a fun though physically exhausting shoot as I was 8 months pregnant. We managed to try many different poses and I love the outfits provided, especially the super stretchy and comfy bandeau/long skirt set. Boy, did the photos highlight my beautiful bump!
My hubby and I love the simplicity of the photos, which placed emphasis on our faces and my bump. Our friends and relatives were impressed by the lovely silhouettes carved out.
This was followed by the newborn photography, when our baby was just a week old. Perhaps because he is also a parent, JJ was very patient with our baby, who threw quite a few fits!
We enjoyed both shoots thoroughly. JJ is a very professional photographer who really gave his best shot(s). We are happy to have hired him to capture some of the most exciting moments in our memory. Be prepared for some dry humor and comedic sarcasm though!